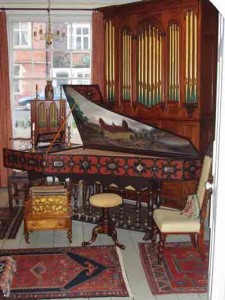 Saturday, 6th May 2017
1.00 – 4.00 p.m.
OPEN HOUSE
at 47 Maltravers Street
Drop in at any point between the above times and listen to Sarah Plumley and friends and pupils play music on different instruments in the Plumley Collection. The following is intended to give some idea of what will be played and at approximately what time.
We will start at 1 p.m. with the first movement of Sonata in D by Mozart on two early pianos, followed by a Bourree and Minuet by J.S. Bach, then Beethoven Op.49/2 1st mvt. in G and Daquin's Le Coucou. This will be followed by Bach played on the harpsichord, a barrel organ and virginal demonstration and two short pieces from Franck's 'L'Organiste' on the harmonium.
At approx. 2 p.m. there will be a performance of the 1st mvt. of Beethoven's Moonlight Sonata followed by the 1st mvt. of Mozart's Sonata in C on two different square pianos. This will be followed by music by Bach on the harpsichord and English chamber organ.
At approx. 2.30 p.m. there will be music by Bach on the Dutch house organ followed by two movements from Schubert's Sonata in A on a square piano. This section of the afternoon will also include Hindemith and Buxtehude on the house organ and a duet by Schumann on the Stodart square piano, ending with Bach on the organ.
No tickets required but you are invited to donate on the day to Macmillan Cancer Support.
(Arundel is having a day of events in aid of Macmillan Cancer Support on 6th May. Please visit
www.arundel.org.uk for further details.)